North American TriumphVitesse/Sports 6
and Herald Database
North American specification 1200 Estates!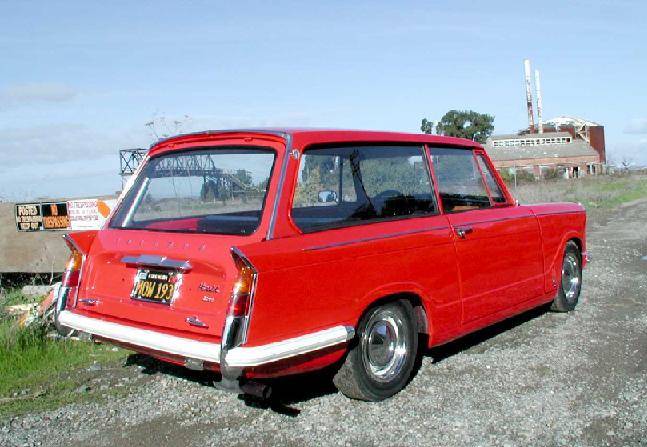 Cliff Watts' Herald 1200 Estate, a Personal Export Delivery car to US specification. Normally, only the 1200 convertible and sedan were offered in the US, but Coupé (until end of production in 1964) and Estate models could easily be built to North American specification for "Personal Export Delivery." A very small number of Estates were built for use by Standard-Triumph USA staff.*
Other views of Cliff's 1200 Estate. The lower photo, taken by Rhett Redelings (used with permission) at the Triumphest 2013 "Funcours," shows the ample cargo space in the Estates.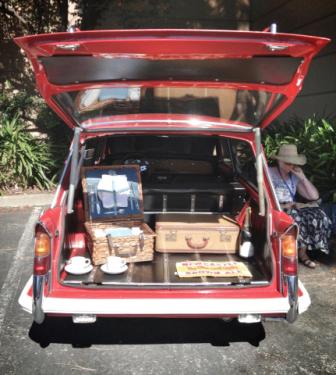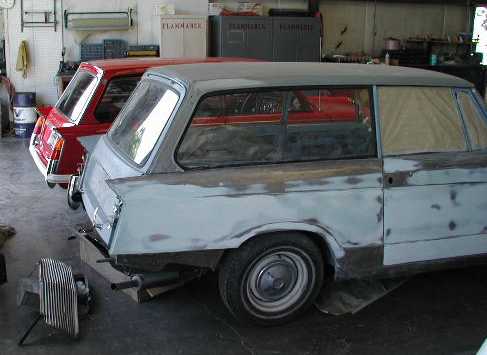 In the foreground is Bryan Clift's 1200 Estate undergoing refinishing. There are but a handful of US-specification Herald Estates still in existence! Below is a more recent photo (Don Scott photo; used with permission) of Bryan's completed restoration!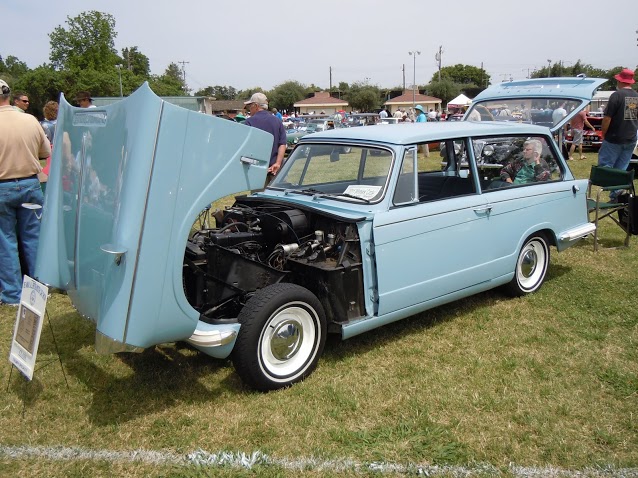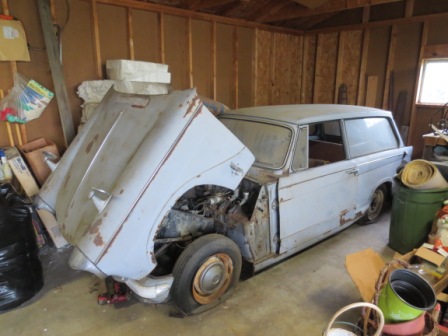 Another "Personal Export Delivery" 1200 Estate has surfaced! Tom Beaver currently owns this Dolphin Grey example originally purchased by a US serviceman stationed in Europe.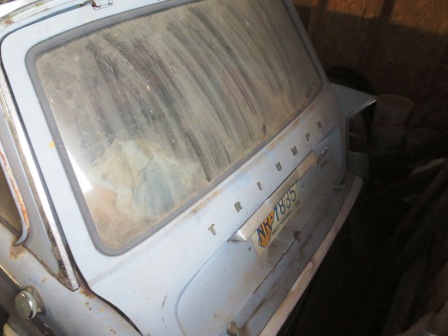 From a 12/09 posting to the "Triumph_Herald" Yahoo! Group E-mail List:
Since folks have been talking about Herald Estates (wagons), I've posted a photo of one I had years back. LHD probably privately imported by a serviceman as I got it from a nearby Airforce base. Never officially imported to the US as far as I know. (*Because we are close to the old British Leyland, Triumph headquarters I think many cars were brought over for use/evaluation by company officials, a 2 Litre Vitesse sedan and a convertible for example).

I actually had two wagons, the other LHD as well, but as I remember it had the earlier divided grill with the larger eggcrate style holes. Anyway this was a great car, very convenient and when fitted with a single carb 1300 and all synch trans and disc brakes, fun to drive. I've fond memories of driving it in very deep snow with tire chains fitted and doing quite well. Very rusty though when I got it. Sadly I sold both and have never seen another here in the US.

Best, Charlie Frick
Are (or were) there others? Your webmaster remembers seeing a wrecked Wedgewood Blue wagon near Cobleskill, NY, back in the late 1960s; it likely was scrapped sometime after that. Presumably, it was one of those brought in for use by Standard-Triumph staff?
There are other Estates in the US, having been imported privately. Bill Goodwin's RHD 1965 example being one of them.
(Picture from the MG Car Club Washington DC Centre 2008 Hunt Club Classic)
Return to the database main page.
3/2/2002; revised 10/5/13