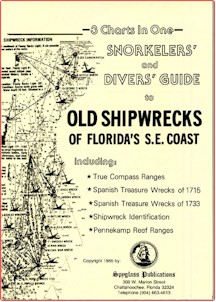 3-CHARTS-IN-ONE SNORKELERS' AND DIVERS' GUIDE TO OLD SHIPWRECKS OF FLORIDA'S SOUTHEAST COAST
This publication graphically details locations of old shipwrecks lost off Florida's southeast coast including those of the Spanish Treasure Fleets of 1715 and 1733. Three true compass ranges are furnished for each wreck along with a thumbnail history providing name of the vessel, water depth, when lost, its cargo, and what salvors found. Computerized scatter patterns of found treasure extend for a mile along beaches opposite some wrecks. Coin-hunters still find treasure there today! Printed on both sides of heavy bond buff-colored paper, the 20 x 28-inch chart is folded to 7 x 9-inches and comes in a waterproof envelope.
To order, send check or Money Order for $25.95 (postage included) to:
Robert F. Burgess
308 West Marion St.
Chattahoochee, FL 32324
(Orders also accepted via email to hunterb4@gtcom.net)
FROM THE NEW EDITION OF FLORIDA'S GOLDEN GALLEONS:
"The Thanksgiving Day storm of 'eighty-four was the best beach cut we've had in twenty years," said retired Fort Pierce lineman, John Durham.... "I got nine 8-escudo coins (valued then between $6,000 and $8,000 apiece) and nine other coins.... Even the wives walking along without detectors were picking them up."

So says avid diver/treasure hunter John Durham as he used an underwater metal detector to search for treasure along a beach opposite one of southeast Florida's Spanish treasure wrecks whose coastal scatter pattern stretches for over a mile along the beach. This site and others are pinpointed on the Snorkelers' and Divers Guide to Old Shipwrecks of Florida's Southeast Coast.
REVIEWS:
"No ship's navigator worth his salt would leave, port without the proper charts for his planned voyage. Neither should a treasure salvor start out looking for one of the many treasure or relic-laden shipwrecks of Florida's southeast coast without his copy of "Snorkelers' and Divers' Guide to Old Shipwrecks of Florida's S.E. Coast."
This 3-charts-in-one publication was produced by Spyglass Publications. It graphically shows the locations of old shipwrecks, lists most of them by the name of the vessel, then describes the vessel and its cargo at the time of the sinking.
Of special interest will be the locations of wrecks from the Spanish treasure fleets of 1715 and 1733. Each of these two fleets were struck by major hurricanes of that particular year, causing the loss of many of the vessels that made up the treasure laden convoy.
These three combined nautical charts pinpoint locations of over 50 shipwrecks located in the easily reached shallow waters along the Florida southeast coast. Included are true compass headings from recognized landmarks to assist in locating the wrecks. Instructions for easily changing these true courses to compass courses are printed on the charts along with dive information, depths and conditions for each location.
The computerized scatter patterns of found treasure also make this 3-in-1 chart a must for beachcombers and coin-shooters. Printed on quality buff-colored paper 20 by 28 inches in size, the chart is suitable for framing and decorating the wall of your den, office or main salon of your boat."
—Reprinted from TREASURE MAGAZINE
"These shipwreck charts should be in every diver's gear bag who expects to dive Florida waters."
— SKINDIVER MAGAZINE
© 2000, 2001 Robert F. Burgess. All rights reserved.